Casino scratchers
There are lots of people who have a misunderstanding about scratchcards and consider them to be some type of a Casino game. This is simply not the case, scratchers as most of us know, are a very easy going and innocent type of game that has nothing whatsoever to do with casino gambling. You might find some scratchers that have some resemblance to some of casino games but although it might look like it, it still is a scratch card.
A good example of the fore mentioned scratch cards can be found at Crazy Scratch. The games at there are divided in 4 parts; Casino scratchers, Sports scratchers, Fantasy scratchers and Slot machines. In the Casino section you will find games that might sound very familiar to those who have experienced real casino gambling, this includes Roulette, Blackjack 21 and even Mahjong and Bingo! You will find around 20 casino related scratchcards in total and in addition some 20 slot machines ranging from only single lined slots up to 9 line slots.
Like stated earlier, although the names of these games give the impression of them being quite serious casino games, they most definitely are not that and after you try them you will notice the difference. One thing that is a bit common with the traditional casino games, you can win huge prices with just a bit of luck.
Roulette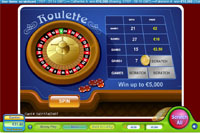 It looks like roulette, it reads like roulette yet it's just a scratch card. Roulette-scratcher is simple but neat combination of both, you have 5 chances to win 5 different prizes, scratch the fields to reveal your winning numbers and prizes and then spin the wheel.
Lucky 21
Blackjack is a very known and popular casino game all over the world. This can be called a blackjack game but even though you have the same goal (to beat the "dealer") you are missing the normal blackjack rules and instead of having only 3:2 payouts for getting a blackjack, you can get up to 100,000 depending on what you bet. Even with £0.5 "stake" you can win up to £5,000 which is much better than in the original Blackjack game.
Bingo Bonanza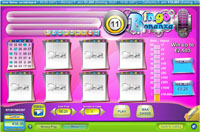 Fancy some bingo? Here you go then: Bingo Bonanza is scratch card with a neat and clean 60-ball Bingo theme. Play up to 8 cards at the same time with prizes from only £0.25 to £10 per card. You can win up to 8 times when playing with maximum amount of cards, the faster you get 5 numbers on the row the more you win! To win, the only thing you need is to get 5 matching numbers in a row before all the 60 balls are called.
Poker King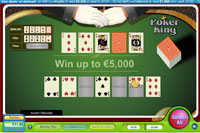 Poker King is pretty much a solid Texas Hold'Em Poker game, with some twists. The values of the hands are the basic ones you would have when playing the actual Hold Em. You get 2 pocket cards with additional 5 cards from which you need to select 3 (creating a 5 card hand). And although this too looks like a solid casino game, this is still a scratch card! And the bets you make, just like in the Lucky 21, can earn you up to £5,000 with a small £0.5 bet!
Click here to play lottery scratchers online with £5 free cash!