Traditional scratchers
Traditional scratchers, where you commonly scratch a few fields looking and hoping to get 2 or 3 matching prize amounts to win the amount in question are extremely popular now days and it is quite safe to say that most people in Europe and United States are more than familiar with this kind of a concept.
Now, this same idea is offered through Internet games. That's right, now you can play more-or-less traditional scratchers online. What makes it so great is that not only you get a huge amount of interactive, fun and exciting games to play, but you also can select the price you pay yourself! This means that you no longer need to pay £2 or £5 for scratchers but can enjoy them for as low as £0.2. Obviously this option comes at a cost, but to win big you also need to have courage to bet a bit bigger.
A good place to enjoy traditional and a bit more modern scratchers is CrazyScratch.com. They offer over 75 games in total, of which 50+ are scratchers of every possible sort. Be it scratch cards based on Casino or sports theme, they got it. They also offer quite big prizes with top prizes being £100,000 or even £1,000,000!
3WOW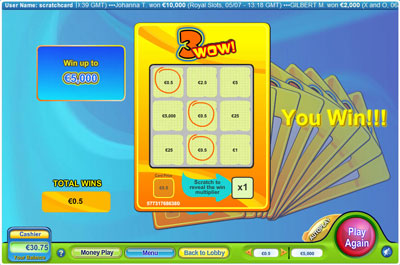 3Wow is as basic as a scratcher game gets but it also has a rather nice twist to it. Although you are still scratching in hope of finding 3 matching amounts ranging from £0.5 to £100,000, in this game you also have a chance of winning the 1 Million pound top-prize. To accomplish this, all you need to do is find 3 4-leaf clovers associated with any other prize, manage that and you will become one of the few and privileged people who need not to worry about money or work.
Super 3WOW
The Super 3WOW scratcher game is much like its older cousin 3WOW, but this time instead of playing only one card at a time you can play up to 3 at once. The price for scratchers in this game is locked to £2/card. The amounts you can win range from £2 to £20,000 and of course the £1,000,000 as the top prize. To get the top prize, just like in the original 3WOW you need to find 3 4-leaf clovers in one single card.
Click here to play lottery scratchers online with £5 free cash!