Sports scratchers
Sport is one of the most common themes for scratchers all over the world. So it is pretty much natural for them being included at a website that is dedicated on providing online scratchers. From the 75+ games that can be found at CrazyScratch.com 9 are sports related scratch cards and although the amount is quite low comparing to other categories it is more than enough. Sports scratchers found at CrazyScratch are ones of the most innovative scratch card games today and are a lot of fun to play. Below you'll find some of the sports-scratchers found at Crazyscratch.
Darts
You probably didn't see this coming did you? Darts scratch card is definitely one of the most fun scratchcards at CrazyScratch. Try to beat the champions score to win the prize and be crowned as a new Darts-champion. You can use the usual three darts to try to beat champions score. Use your mouse to aim the dart and click the left mouse button to throw the dart.
Splash Cash
Splash Cash scratch card is based on a popular TV-show called "Hole in a Wall". Your goal is to position the player you select on the right spot using "Left" and "Right" arrows on your keyboard. If you find a right place and your character manages to jump through the hole you win, if however your player fails…well, if you've seen the show you'll know what happens.
Goal Kick
As you can imagine Goal Kick is a game with a football theme. To win a prize you need to score more goals than the opposing team. First select the price of the "scratcher" then simply select where you would like to kick and hope that the goalie fails to see through your ruse. You have 5 kicks to score as much as possible.
Gone Fishing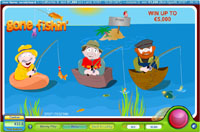 Surprisingly enough Gone Fishing is a scratchcard with a fishing theme. The idea is as simple as it gets. Select the fisherman who you believe to get the fish and wait for him to reel in whatever he caught. Keep in mind that only a fish on the other end of the reel will trigger your prize so don't celebrate when you get those wheels and boots.
Click here to play lottery scratchers online with £5 free cash!